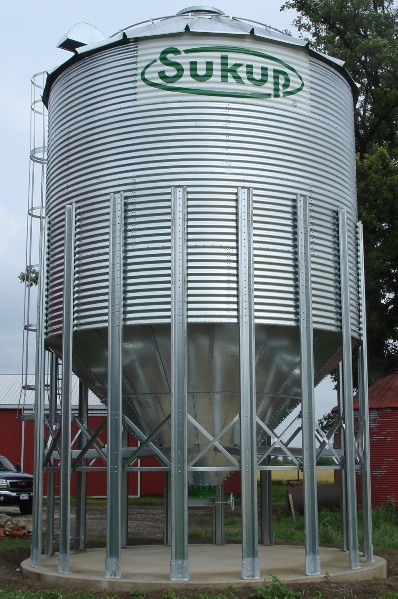 Sukup offers Medium-Duty and Heavy-Duty Hopper Bins. The designs of both are among the strongest in the industry, with wide corrugations, extra-strong stiffeners, and heavy-gauge hopper panels.
Sukup Hopper Bottom Bins are designed to hold free-flowing grains up to 52 lb/ft3, with an unload rate of 9000 bu/hr. Sukup's stiffened and non-stiffened bins are designed for stir drying with three or fewer down auger stirring machines.
Medium-Duty Hopper Bottom Bins
Feature legs formed in the extra-strong Sukup stiffener profile. The legs extend up the bottom two bin rings, providing additional support for the sidewalls.
15′, 18′ or 21′ diameter
2,224 – 8,022 bushel capacity

May be used for short-term wet holding tanks for your Sukup Dryer

May be used to store cool, dry grain for an extended period of time
Heavy-Duty Hopper Bottom Bins
15′, 18′, 21′, 24′ or 27′ diameter
4,409 – 30,859 bushel capacity

May be used for short-term wet holding tanks for your Sukup Dryer

May be used to store cool, dry grain for an extended period of time

May be used as working bins
May be mounted on over-head super structures for loading of semis or train cars
Price:
CALL 320-815-1043
Product Category:
Grain Bins