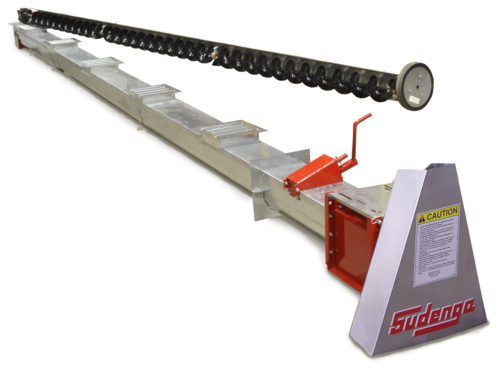 Specify Sudenga 10″ u-trough power sweeps for your next bin purchase.  Reliable capacities to 6000 bushels per hour for bins to 80 feet in diameter.
Horizontal and incline unloading heads available.  Standard double bearings increase wear life of bearings.  Incline features constant velocity knuckle standard for quiet, reliable operation.  Quick tension motor mount standard.
Horizontal Head Capacity: 6000 Bu/Hr
Incline Head Capacity: 5200 Bu/Hr
*Sweep capacity can be reduced when sweep is operating.
Price:
CALL 320-815-1043
Features:
Internal sweep engagement controls. Direct coupled heavy duty 1-1/4" shaft gearboxes.
Reinforced Galvanized Sweep Backshield for one-pass sweep operation.
Sump gates ride on UHMW pads for smooth, reliable operation.
Galvanized 14 gauge trough with standard reinforcing rib.
All Control Rods located inside the U-Trough. Factory installed.
Rack and pinion opener for center and intermediate sumps.
If the Center Sump becomes obstructed during the first phase of emptying the bin, the Intermediate Sump nearest the Center Sump can be opened by turning the control halfway, providing a "near center" drain point. The remaining Intermediate Sumps can then be opened to uncover the sweep auger.
4:1 or 16:1 (dependent on bin dia.) self-cleaning reduction drive end wheel. High wearing traction strips last 3 times longer than traditional wheel and increase wheel traction by 85%. Wheel backshield works with wheel to leave less grain at bin wall.
Wood Hanger Bearings - Bearings are placed at the sumps for easy access. Flightings and bearings can be removed as a unit, with the bearing hangers sliding on ledges in the trough. Bearings are self-seating.
Compare the number of Sudenga intermediate sumps to those on other units! More sumps = reliable unloading of bin. 1/4" thick underbin flight on 2-7/8" shaft (bushed to 1-1/2") for long wearing life.
Product Category:
Augers